So, it has become apparent that I need 3 vacuum cleaners. This may seem overkill to some but here's why that's exactly what suits my needs!
Prior to my current house, I have always lived in a single-story home and running around the house with my corded bagless vac has always been good enough for me. I used to even go as far as dragging it out the front to vacuum the car in the days I used to wash it myself! All those days are long gone and upon moving into my current house, it became obvious that one single bagless corded vac simply didn't cut it anymore.
I had a Dyson bagless corded vacuum for many years and considered it an investment due to how much it cost. I dreamt of the days that I could justify purchasing a cordless stick vac but at close to, or now well over $1K, I always found it hard to justify the cost, and there was always something else to spend the money on.
Upstairs Downstairs
Nearly a year ago now, I could no longer be bothered dragging my corded vac up and down and after nearly falling down the stairs one day whilst lugging it down, I decided I needed a permanent solution to keep down there for the floorboards & rug.
I searched our group and saw a few posts in there about Robot Vacuums, so I started to look into them. I read some good things about Roborock and reached out to see if they would like to offer a discount to members of our group for their product.
They did offer us a member discount and also went one step further in giving me a Roborock S6 to try in order to be able to share my experience and promote the benefits for our members.
'Rando Rob' as we call him, has been a bit of a game changer for vacuuming in my house. I love the fact that I can 'set and forget' him to do his work and I do this a couple of times a week when I leave the house in the morning. He does his thing and by the time I come home, the floors are looking great and he is back in his dock recharging!
So, I was using my corded bagless upstairs and my Robot Vac downstairs…and, he mops too!
The Death of the Dyson
Then, my Dyson died ☹ I took it to a local shop to see about getting it repaired and that is a whole other story which I'm best not to go into.
I started to use my Roborock S6 upstairs too, but it soon became apparent that my wool carpet was too much for it and the dustbin was constantly full and I was again in the market for a corded vac. I recently decided to go back to bags as the wool carpet still loses a lot of fluff when vacuuming and so far, I've been happy with this decision.
So, I now have my Robot vac S6 for downstairs and my corded bag vac for upstairs.
BUT, what about when the kids cook toast in the morning, my husband comes home from a synthetic soccer pitch with all the little black pieces of rubber in his shoes or the kids walk their grassy boots and shoes in the house? Enter, the Roborock H6 Cordless Stick vacuum!
Three is the Magic Number!
This was the last piece of my vacuum puzzle and I knew I needed a quick fix to be able to run around and give a quick vac whenever I needed to.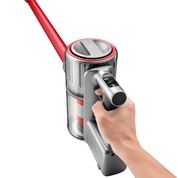 Don't get me wrong, the robot is great but he takes his sweet time to get around and if I only have a couple of areas that need vacuuming, it's a pain to set him to do his full 'map' around the house when I can just grab the stick and give it a quick go.
The stick also is easier for skirting boards, mattresses, the car, bathrooms or anywhere where you want to do a quick job as opposed to pulling out the corded vac or letting the robot follow its full course.
All three are the perfect complement to each other and all suited to different needs. So, whilst I lived with one vacuum cleaner for years, I now can't see how I did without the three!
EXCLUSIVE Discount for LRC Members
As you may have seen, we have a discount on the Roborock H6 until 31 August 2020.
Use the code LRC20 and you will get 20% off the RRP and a bonus floor stand valued at $99.95!
Even before the code, these are priced well at $699.
It comes with quite a few tools and accessories and has significant battery life of up to 90mins in ECO mode. I also found the lock mode extremely useful as previous ones I've used haven't had this function and it can become more than annoying to have to hold your finger down for 10 or so minutes!
It has an informative OLED display, a 420W motor and really importantly, washable parts! Not sure about you, but I don't wash or clean these filters as often as I should as it always seems too hard.
I don't get anything if or when our members purchase one of these so please know that I'm just sharing this discount and review with you based on my experience with the products and also to acknowledge the fact that Roborock have been happy to offer this to you as our members to which I'm always grateful! I love supporting the businesses that help to support us.
Please comment in the group or send me any questions if you have them. You can purchase their products at the below link.
https://roborock.com.au/products/roborock-h6?gclid=Cj0KCQjwsuP5BRCoARIsAPtX_wH9cnZfh6L7E62WDyTik5W8n5JVuAQQUGPnf633AXeDYTYhhtki1gUaAq_UEALw_wcB