​Tradies that turn up on time?
Why wouldn't they? Dust and mess left behind? Quite the opposite. Being left with shoddy work? No way. That is the experience of Lisa from Wheeler Heights who recently had her tired 90s bathroom completely gutted out, restructured and refitted to the hottest design trend right now – ultra cool contemporary urban.
The new design trend pairs soothing natural timber accents against solid, hard-wearing materials such as concrete and ceramic tiles with a minimalistic flow to create a sleek yet grounded vibe.
"When I first sent photos to my sister who had renovated her own bathroom, she said she loved how warm it looked," she said.
"I think it's a bit of a safe choice going neutral with the fixtures and adding colour with towels and other accessories, so I think it will age well."
After starting her home renovation seven years ago, finally completing the bathroom has given such relief and satisfaction, Lisa says. Plus having a drama-free experience was a bonus.
She and her husband selected KMK Property Solutions from our trades directory and are highly recommending the local northern beaches company for anyone wanting to renovate.
How did it all begin?
We've been in this house for 17 years – it was our first house after living in a unit and then seven years ago we did a major renovation and doing the bathroom was part of that plan but being a major renovation there were cost blow outs and the bathroom was one thing we didn't have to do right away, especially since it then became our second bathroom.
KMK Property Solutions was the pick of the bunch when doing your research. What made you choose them?
We chose KMK because they were able to come up with a complete management plan from start to finish including the structural changes which involved moving a wall and some plumbing changes as well.
Communication was really important for us and that was one of the main reasons why we chose KMK because during the quoting process they were really great with communicating, so we knew it was going to run smoothly through the renovation. From first contact, I had an on-site meeting set within a week and then within the next week, a quote was provided.
Why not DIY?
If we did it all ourselves, I thought the smaller the job, the harder it would be to get someone to come in just to put in a wall and fit us in amongst bigger jobs and not be their priority. We are both working, so from a timing point of view, it didn't add up given the amount of time spent on the phone if I had to contact plumbers, electricians etc. individually and then I didn't have the time to meet with all the trades on site or take calls while I'm at work so if there were any issues I couldn't keep on top of that.
How did KMK Property Solutions make your renovation drama-free?
They were really great from the beginning to the end of the bathroom renovation. All through the project they managed the trades really well; we didn't have any gaps between them so that completed the bathroom in a really timely manner. We didn't have any dramas at all.
We were really happy with the quality of the work that was completed from the demolition to the preparation work, they were really neat and tidy with cleaning up and also with all the trades coming in turning up on time and communicating with us and doing a really high standard quality of work which is really reflected in the final product. We would definitely recommend KMK to other clients, whether it's doing a single project like a bathroom or perhaps something bigger.
And you used an app during the build?
The use of the Buildertrend app was also really good as well because I was able to communicate with multiple members of the team and also keep track of invoicing and managing the finances and things like that which was really great. It made it really easy to see what we were adding to the project from a financial point of view and having that communication with the trades and the admin department made it all really easy.
Key features made this bathroom a success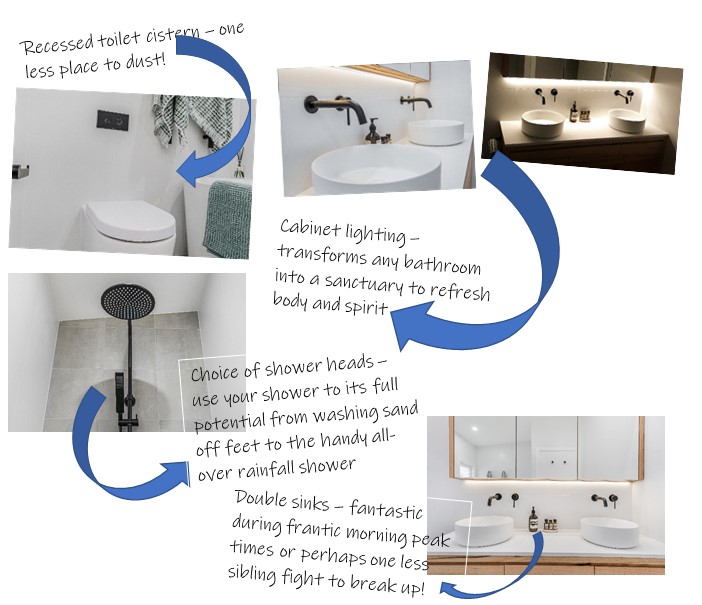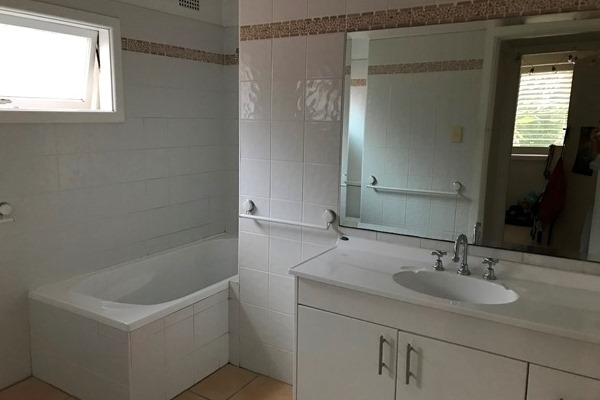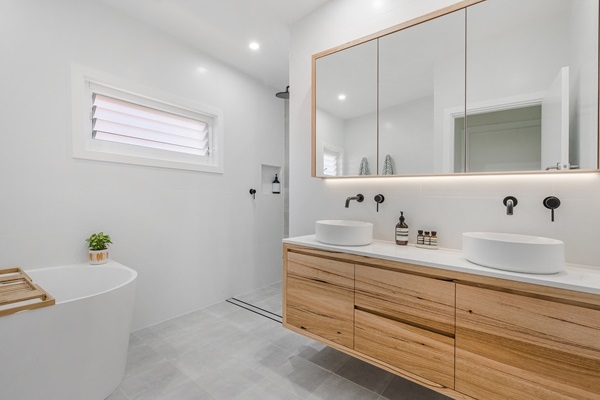 The KMK Difference
Our workers are employees, not sub-contractors, which minimises risks to clients such as unexpected costs or contractors causing delays or bad quality of work.
We are a 20-year-old local business which expanded out of continued customer satisfaction and recommendations.
We pride ourselves on clear and straight-forward quotes and project management.
We offer the use of a handy app for clients to keep track of their renovation at any time.