When it comes to designing your ideal home, there are various ways to achieve a great result:
Renovating within the existing walls of your home
Enlarging the current footprint with an addition (going up) or extension (going out)
A partial rebuild, where a poorly designed section of your home is knocked down and replaced
Demolishing your entire site and starting fresh for a completely new home.
Many undertaking a big renovation project will spend weeks, months, and even years trying to navigate which path will achieve their desired outcome. With so many decisions to make, we understand it's a daunting task, and have put the following information together to help guide you.
THE BIG PICTURE
Before you get entrenched in the finer details of the beautiful new kitchen you're dreaming of, it's important to step back and look at the broader design basics of your existing home to see how it stacks up:
1. Orientation – does your existing home make the best use of the block you're on?
Does it allow for sunlight when you want warmth, and shade when you don't?
Is your current home bright and airy with good cross-ventilation, or pokey, damp and dark?
Are you already capitalising on great views, or staring into your neighbour's property?
2. Current Condition – the condition of your existing home will play a big part in deciding whether it's worth keeping or demolishing.
Do you have a solidly built shell with good foundations to work with? – as opposed to ongoing issues with rising damp, termites, movement, cracking or flooding?
Is your home showing signs of age (inside or out), but could be brought back to life with some maintenance and TLC?
Do you have lots of charming features you'd like to retain?
3. Brief and Budget – What you're trying to achieve, as well as your budget, will also be key factors in deciding which path to take.
Is the the new home you're imagining a newer, better, and potentially larger version of your existing home? Or do you want to start with a clean slate to create something totally different in terms of design, style, and layout?
How much are you willing to spend on your existing home without over capitalising? There is a tipping point where it may be advisable to knock down your existing home and start again.
THE PATHWAYS TO YOUR NEW HOME
In short, if your existing home has structural integrity and you want to keep some of the original areas and features, a renovation or partial rebuild may be a better option for your project. Let's take a closer look at the available pathways:
Major Renovation
Your existing house has "good bones" – you just need more space and a fresh interior. In some cases, more space in a home can be achieved by redesigning the current floorplan for better flow and functionality.

To suit the needs of growing families, adding an extra story, or extending with a new kitchen/living area is a popular choice for modern, open plan living.

Updating the layout and finishes for key areas of the home, like the kitchen and bathrooms, will make significant improvements to your home's liveability.

It's important to note that you cannot increase the ceiling height of an existing home. If it's high, lofty ceilings you're after, you will need to knock down and rebuild.

Depending on the extent and staging of the renovation, you may be able to continue living in the house during the project.
Partial Rebuild
A classic example of where a partial rebuild could come into play is an older style Californian bungalow that has had a poorly integrated extension added in the past.

This entire section of the house and joining wall would be demolished to pave the way for a better-designed extension.

You may still be able to live in a part of the house while the partial rebuild takes place.
Full Knock Down and Rebuild
When your existing house is beyond redemption and the money you'd need to spend renovating exceeds the home's potential value, you may need to consider starting from scratch with a full knockdown and rebuild.

Before any construction starts on a full rebuild, there are considerable costs in getting your site ready:

Demolition: knocking down the existing home and foundations and taking the waste away.

Leveling: soil testing and re-leveling the ground for the new design to prepare for concrete slabs and retaining walls.

Footings and Foundations: pouring concrete slabs and foundations for the footprint of your new home.

Aside from being more costly, a full knockdown and rebuild will take much longer to complete (12-18 months) versus 6-9 months for a major renovation. You will also need to find alternate accommodation during this period.
Still unsure of which option may be best for your project? It's important to seek professional advice from the experts who have a full understanding of design, construction, and building approvals/restrictions, to assess your existing home.
Exclusive LRC Member Offer – save 50%* when you book an Onsite Design and Build Consultation with MILEHAM Architects and Builders (*usually $490, now $245).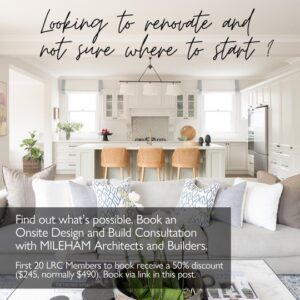 Book an Onsite Design and Build Consultation with MILEHAM by 31 January 2022, and you will receive 90 minutes of onsite design and construction advice, feedback and recommendations from their Principal Architect and Licenced Builder, James Pilcher, at a 50% discount to their standard rate.
Terms and Conditions apply. Must be redeemed by link provided. https://www.mileham.com.au/lrc-promo